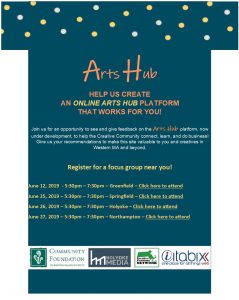 Arts Hub
HELP US CREATE
AN ONLINE ARTS HUB PLATFORM
THAT WORKS FOR YOU!
Join us for an opportunity to see and give feedback on the Arts Hub platform, now under development, to help the Creative Community connect, learn, and do business! Give us your recommendations to make this site valuable to you and creatives in Western MA and beyond.
Register for a focus group near you!
June 12, 2019 – 5:30pm – 7:30pm – Greenfield – Click here to attend
June 25, 2019 – 5:30pm – 7:30pm – Springfield – Click here to attend
June 26, 2019 – 5:30pm – 7:30pm – Holyoke – Click here to attend
June 27, 2019 – 5:30pm – 7:30pm – Northampton – Click here to attend